Club 500 Strike a Light
Following on from the success of the Club 500 Ghost model we have looked again at what we could produce as some modellers had concerns about not making a neat installation in that clear version which would be on view for all to see!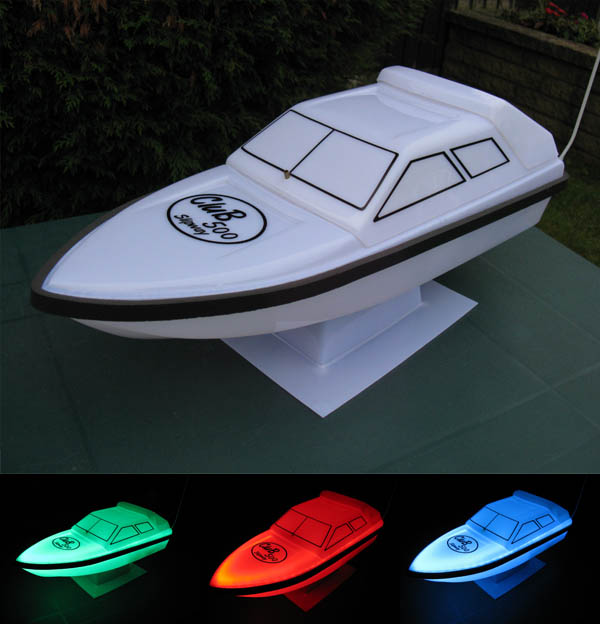 What we have come up with is a sort of half way house in that by using an opalescent plastic and installing multi coloured controllable lighting you have the best of both worlds where by day the model looks white and your fitting out inside cannot be seen but as evening falls it can be Illuminated in a myriad of differing colours and looks quite spectacular on the water. No other model has been made before that can be lit in such a way.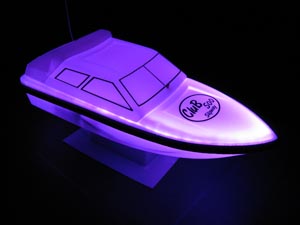 It is supplied with the lighting kit and is complete with a new set of window frame decals in order to allow as much of the lighting to show through as possible. We have called this one "Strike a Light" and that logo is supplied with the kit. I suppose you could have an evening race with say six or so all racing in different colours!
The lighting has a waterproof silicon cover and is fitted around the inside top of the hull with clear silicon sealant and the lights facing inward just before you attach the deck to the hull. Instructions giving advice on the installation will be included.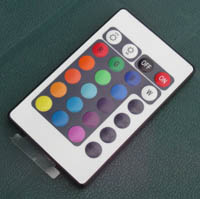 Control of these lights , colours and whether static, flashing, strobing etc is made by the hand unit shown in the picture much the same as a TV remote control. As with most of these LED type lights they normally require to be operated on 12volts and on the model shown we have used a 3s Lipo ( 11.1 volt) for the main motor ( which does no harm ) and slaved off this to supply the lighting which works very well, however if you wish to use a separate supply they will also work off a minimum 9 volts which can be Nimh or even a small PP3 type dry cell batteries.
Buy the Club 500 Strike A Light
If you require further information contact Malcolm on 01902 746905 or 07884071122.